I have a fondness for this region ;-)



Lublin Voivodeship

(also known as Lublin Province, or Polish: województwo lubelskie [vɔjɛˈvut​͡stfɔ luˈbɛlskʲɛ] or simply Lubelskie) is a voivodeship, or province, in eastern Poland. It was created on January 1, 1999, out of the former Lublin, Chełm, Zamość, Biała Podlaska and (partially) Tarnobrzeg and Siedlce Voivodeships, pursuant to Polish local government reforms adopted in 1998. The province is named after its largest city and regional capital, Lublin, and its territory is made of three historical lands: the western part of the voivodeship, with Lublin itself, belongs to Lesser Poland, the eastern part belongs to Red Ruthenia, and the northeast belongs to Polesie.

The capital is Lublin. This city is very important in polish history.





Lublin

[ˈlublin] ( listen) (Ukrainian: Люблін, Liublin, Yiddish: לובלין Loblin) is the ninth largest city in Poland. It is the capital of Lublin Voivodeship with a population of 350,392 (June 2009). Lublin is also the largest Polish city east of the Vistula river. Lublin is a candidate for the title of European Capital of Culture in 2016.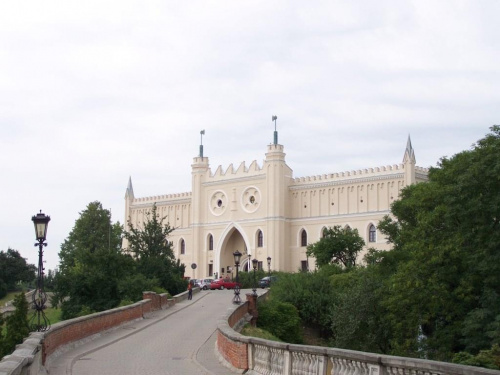 Lublin has really beautiful old city. I know this city very well and i think, that in Lublin is much to be done, but it's city with potential!

Lublin is connected with great polish history.



The Union of Lublin

(Polish: Unia lubelska; Lithuanian: Liublino unija; Belarusian: Лю́блінская у́нія) replaced the personal union of the Kingdom of Poland and the Grand Duchy of Lithuania with a real union and an elective monarchy, since Sigismund II Augustus, the last of the Jagiellons, remained childless after three marriages. In addition, the autonomy of Royal Prussia was largely abandoned. The Duchy of Livonia, tied to Lithuania in real union since the Union of Grodno (1566), became a Polish-Lithuanian condominium.[1]

It was signed July 1, 1569, in Lublin, Poland, and created a single State, the Polish-Lithuanian Commonwealth. The Commonwealth was ruled by a single elected monarch who carried out the duties of Polish King and Grand Duke of Lithuania, and governed with a common Senate and parliament (the Sejm). The Union was an evolutionary stage in the Polish-Lithuanian alliance and personal union, necessitated also by Lithuania's dangerous position in wars with Russia.





...a sad history



Majdanek

was a German Nazi concentration camp on the outskirts of Lublin, Poland, established during German Nazi occupation of Poland. The camp operated from October 1, 1941 until July 22, 1944, when it was captured nearly intact by the advancing Soviet Red Army. Although conceived as a forced labor camp and not as an extermination camp, over 79,000 people[1] died there (59,000 of them Polish Jews) during the 34 months of its operation.








The Polish Committee of National Liberation

(Polish Polski Komitet Wyzwolenia Narodowego, PKWN), also known as the

Lublin Committee

, was a provisional government of Poland, officially proclaimed 21 July 1944 in Chełm under the direction of State National Council (Krajowa Rada Narodowa, or KRN) in opposition to the Polish government in exile. It exercised control over Polish territory re-taken from Nazi Germany and was fully sponsored and controlled by the Union of Soviet Socialist Republics.



Lublin is one of four polish cities where....


we can see trolley buses :mrgreen:

Other interesting cities are...

Zamość





Zamość

[ˈzamɔɕt​͡ɕ] (Yiddish: זאמאשטש, Zamoshtch) is a town in southeastern Poland with 66,633 inhabitants (2004), situated in the Lublin Voivodeship (since 1999). About 20 kilometres from the town is the Roztocze National Park.

The historical city centre was added to the UNESCO World Heritage List


Kazimierz Dolny
[kaˈʑimjɛʂ ˈdɔlnɨ] (Yiddish: קאזמיר Kuzmir) is a small town in Central Poland, on the right (eastern) bank of the Vistula river in Puławy County, Lublin Province.

It is a considerable tourist attraction as one of the most beautifully situated little towns in Poland. It enjoyed its greatest prosperity in the 16th and the first half of the 17th century, due to the trade in grain conducted along the Vistula. It became an economic backwater after that trade declined, and this freeze in economic development enabled the town to preserve its Renaissance urban plan and appearance. Since the 19th century it has become a popular holiday destination, attracting artists and summer residents.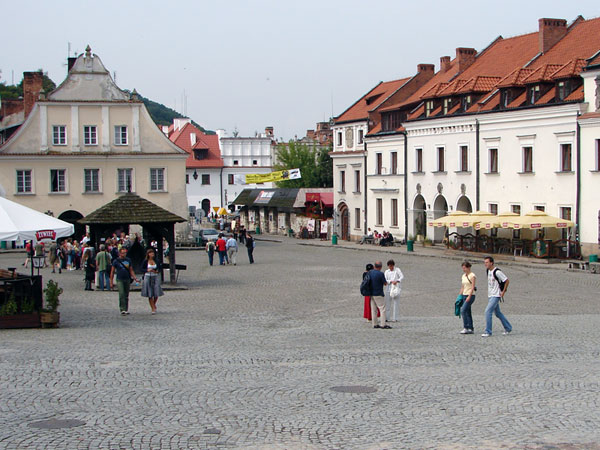 Nałęczów
[naˈwɛnt​͡ʂuf] is a spa town (population 4,800) situated on the Nałęczów Plateau in Poland's Lublin Province. In the 18th century, the discovery there of healing waters initiated the development of a health resort; the main treatments are for circulatory disorders.

Notable landmarks include the 18th-century baroque-classicist Małachowski Palace (1771-73, since remodeled) and a park and resort complex dating from the 18th-19th centuries.

Nałęczów was the favorite vacationing place of novelist Bolesław Prus for three decades from 1882 till his death in 1912. It features museums devoted to Prus and to novelist Stefan Żeromski, a fellow frequent visitor whose literary career Prus generously furthered.


If someone like nature, i recommend

Roztocze






Roztocze

(Ukrainian: Розточчя, Roztochia) is a range of hills in east-central Poland and western Ukraine which rises from the Lublin Upland and extends southeastward through Solska Wilderness and across the border into Ukrainian Podolia. Low and rolling, the range is approximately 180 km long and 14 km wide. Its highest peak within Poland is Wielki Dział at 390 meters, while in Ukraine it is Vysokyi Zamok (Lviv High Castle) at 409 m. In Poland Roztocze lies in the Lublin and Podkarpackie voivodships, while the portion in Ukraine extends all the way to the outskirts of Lviv. The Polish portion of the range makes up the Roztocze National Park.